---
University Highlight
Florida State University, distinguished as a pre-eminent university in the state of Florida, is identified by the Carnegie Classification of Institutions of Higher Education as engaged in very high research activity, the highest status accorded to a doctoral-granting university. The wide-ranging scholarship of FSU faculty and graduate students is nationally and internationally recognized for its contributions to science, business, government, culture, and society. FSU faculty members are also recognized for their exceptional level of instruction.
---
Featured Graduate News Stories
---
Upcoming Workshops, Events & Deadlines 
---
---
It Takes Two: FSU Students Pursue Master's and Doctoral Degrees to Ensure Career Success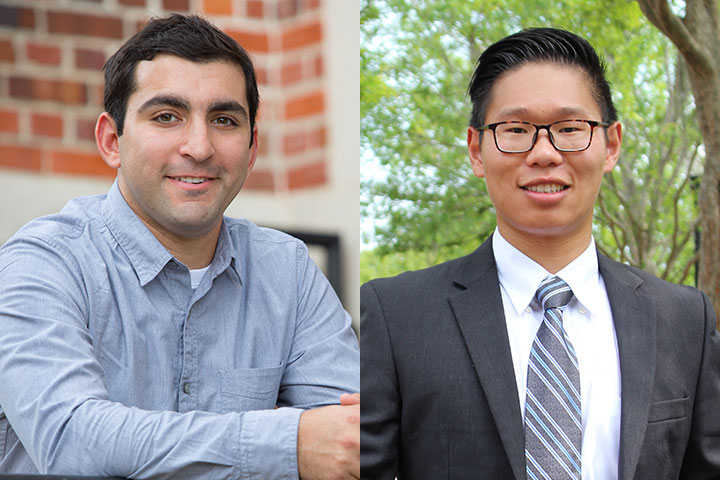 Only about 3 percent of college graduates earn doctoral degrees and it's even more rare for a Ph.D. student to pursue a master's degree at the same time.
While unusual, Florida State University is helping students who want to accomplish this rigorous academic feat achieve their goals.   
Zhiqiang Shu, a recent FSU graduate, earned his doctoral degree in biological sciences in August and received his MBA in December 2016.
"I never saw myself as just a researcher," Shu said. "I always wanted to do something with science, but broaden my horizons as well." 
It was 2014 when Shu met then-fellow molecular biophysics doctoral candidate, Austin Schwartz at a seminar. During the talk, Schwartz shared details about his journey to pursue both a doctoral and master's degree.
"I was always interested in science and wanted to get into the research world," Schwartz said. "I had also grown up in a very entrepreneurial household. When first coming to graduate school, I had decided that I wanted to create something in the lab, patent it and then start my own biotech."
Schwartz reflected on an internship he had years ago. He worked with a physicist who created his own product and launched his own company.
"He was the CEO but knew nothing about business," Schwartz said.
The company went bankrupt shortly after Schwartz completed his internship. He said that experience put things into perspective, and it's where the idea for the MBA came in. Schwartz knew he needed to have some business knowledge in order to be successful.
At 28 and having received his MBA this past spring, Schwartz said he's been in school his entire life. That was one reason for pursuing both degrees at the same time.
"If I did the Ph.D. and burned myself out, I might not have returned to school for the MBA," Schwartz said. "Now that I'm moving toward graduation for my Ph.D., I'm ready to get out in the real world and apply the skills I've gained from my education."
---
Retired Dean Nancy Marcus, Receives Stellar Send Off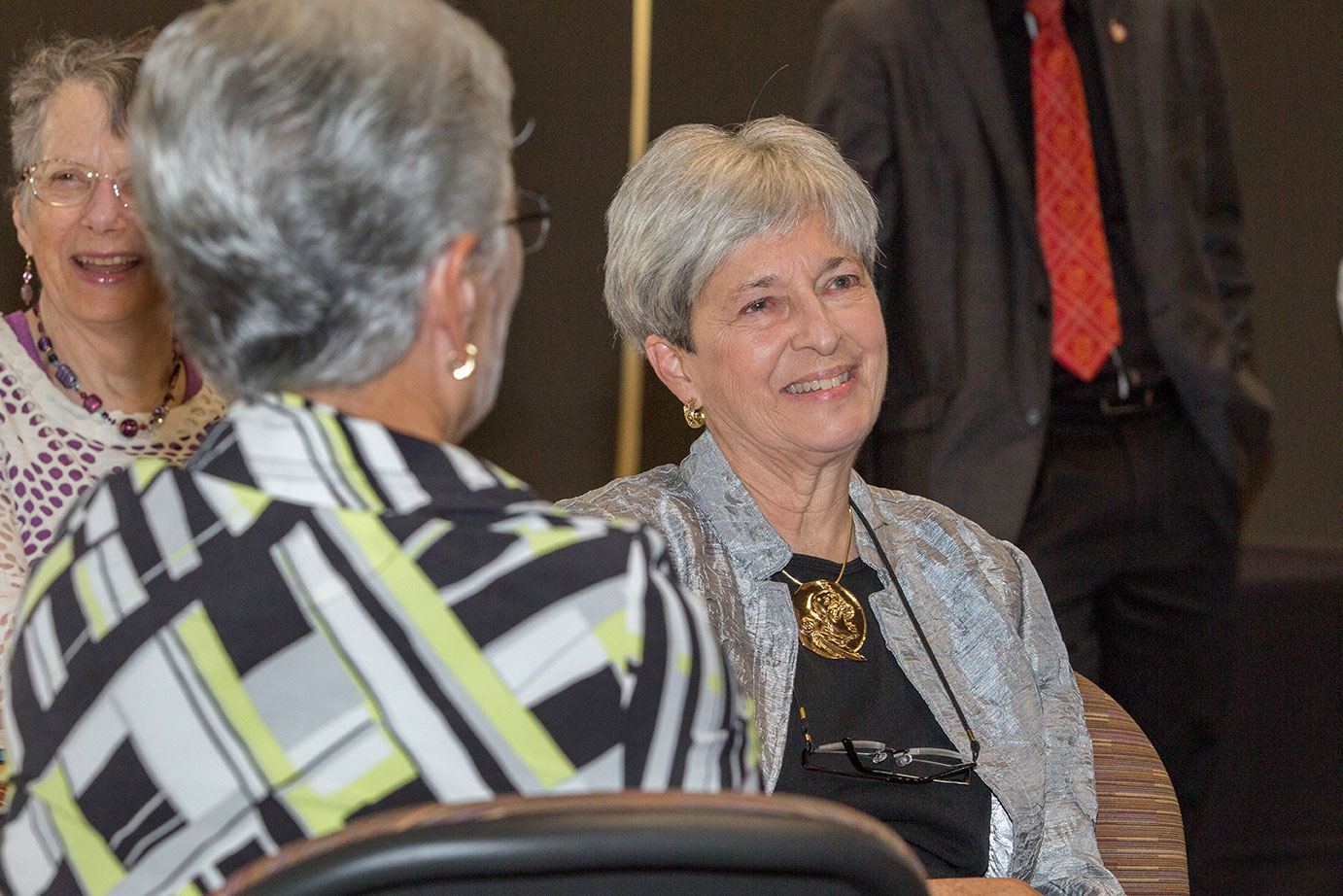 It was a standing-room-only crowd at the Honors, Scholars and Fellows House Wednesday, Sept. 6, as students, faculty and staff gathered to celebrate the retirement of Nancy Marcus.
Marcus is stepping down after 30 years at Florida State University, including the past 12 as dean of the Graduate School. She previously served as chair of the Department of Oceanography, as it was previously called, as well as director of the Marine Laboratory and the FSU Women in Math, Science and Engineering program.
She was named the Robert O. Lawton Distinguished Professor in 2001. The distinction is the highest honor FSU faculty can bestow upon a colleague.
Friends and colleagues of the retired dean offered congratulatory remarks, including President John Thrasher.
"Nancy, I will miss you," Thrasher said. "You have served our students and this university well. FSU is a better place because of your teaching, research and service. Thank you for everything you have done."
The surprise of the evening had to be the presence and remarks from Marcus' brother, Teddy, who traveled from New York to celebrate with his sister.
He talked about how he felt he grew up in his sister's shadow. He told attendees about her love for magic, and even the fact that Marcus is an accomplished ventriloquist. He closed by sharing sentiments from their 94-year-old mother who could not make the event.
"These words come with my love for a job well done … I'm proud of her accomplishments and vain enough to say so," he read.
Marcus was given a host of gifts celebrating her service to the university, including a commemorative brick on the Westcott Plaza. The brick was Marcus' only parting request, but her colleagues took it a step further. They also arranged for a commemorative bench to be placed near the Honors, Scholars and Fellows House — a building she was instrumental in creating.
"It's really been a great privilege to be a faculty member at Florida State University and be the dean of the Graduate School," Marcus said. "Seeing the pictures flash on the screen reminds me of all the things I was involved with over the years through the great breadth of this university."
Continue Reading and View Pictures of the Event Here! 
---
Dr. Mark Riley, Robert O. Lawton Distinguished Professor, Named Interim Dean of the Graduate School 
Dr. Mark Riley, a Robert O. Lawton Distinguished Professor, is the Interim Dean of The Graduate School at the Florida State University. His responsibilities include oversight of the education of approximately 8,000 graduate and professional students. Riley earned a Bachelor of Science with Honors in physics and a doctorate in nuclear physics, both from the University of Liverpool in England.  He worked as a research associate at the Niels Bohr Institute at the University of Copenhagen and then as a research associate at the Oak Ridge National Laboratory and University of Tennessee. Prior to joining the Florida State faculty as an assistant professor in 1991 he served as an Advanced Fellow at the University of Liverpool.  Riley was named the Raymond K. Sheline Professor of Physics in 2001, selected for an FSU Distinguished Research Professor Award in 2008 and became a Robert O. Lawton Distinguished Professor in 2014. He has won two university teaching awards. He served the Department of Physics as chair from 2007 to 2013. His research involves the detection of gamma-ray emission signals from excited atomic nuclei under extreme conditions. High-resolution gamma-ray detection plays an ubiquitous role in nuclear science and he has been deeply involved in the development and use of the world's most powerful gamma-ray detector systems, such as, Gammasphere and GRETINA-GRETA. He has served on Users Executive Committees at the national laboratories of Oak Ridge, Argonne and Michigan State University. Other national level committee participation has included the Nuclear Science Advisory Committee to the DOE and NSF, and Program Advisory Committees of national laboratories at Berkeley, Argonne and iTHEMBA LABS in South Africa. He is a Fellow of the American Physical Society and is a past chair of the APS's Publication Oversight Committee.  Riley's publication record includes ~200 research articles and he has delivered ~100 invited talks.
---
---